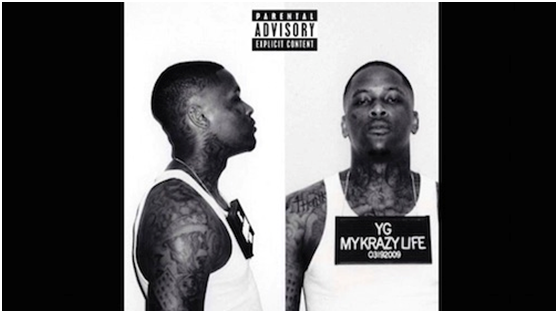 New America Media, News Report, Gloria Liao, Posted: Oct 24, 2016

Above: California rapper YG's 2014 album My Krazy Life, which features a song that Chinese Americans say calls for targeting of the community. 
SAN FRANCISCO -- California rapper YG is facing a nationwide backlash from the Chinese American community for his 2014 song "Meet the Flockers," reports the Chinese language World Journal. 

The opening lyrics of the song – "First, you find a house and scope it out. Find a Chinese neighborhood, cause they don't believe in bank accounts" – appear to condone the targeting of Chinese homes for robbery. 

Critics say the lines are in essence a how to manual for robbing Chinese and other Asian American homes and businesses. Protest organizers have already successfully gotten YouTube to remove the video. They have circulated a petition to ban the song from public media and have YG investigated by federal authorities. The petition has already garnered the necessary 100,000 signatures for it to go before the Obama administration. 
Neither YG or his managers have issued a statement on the reaction.

Protests, meanwhile, have already taken place in states like Maryland, Texas, New York and Pennsylvania, where on October 15 more than one thousand Chinese Americans took to the streets after a spate of violent robberies targeting Chinese-owned business. Simultaneously, members of the Greater Philadelphia Chinese Gun Club organized a parade as a show of force, carrying shotguns, AR15s, AK15s, and handguns.

Two days later the World Journal reported that the owner of a Chinese laundromat was held up at gunpoint, prompting yet more angry responses from the community.

Fong Zhu, the president of the Fujian Association of Philadelphia, lamented the recent spate of robberies against Chinese American businesses and homes. In Philadelphia alone, he told the paper, over a hundred incidents have been reported, with the rate of robberies hitting a peak this summer. Within a month, there were twelve reported break-ins of Chinese homes.

All this, he added, has created a climate of fear and anger within the Chinese American community.

In a separate interview with the paper, Philadelphia City Councilmember David Oh said the lack of state identification, including green cards, among many in the Chinese community often discourages victims from reporting crimes, thus making them easy targets.

The City Council is planning to hold hearings on the targeting of Chinese homes and businesses, Oh said, adding the police, the district attorney, and the FBI will jointly investigate the problem and come up with preventative solutions.

But calls to have the song and video scrubbed from the public have some crying censorship. Journalist Esther Wang wrote in an essay for GQ that it was naive for Chinese Americans to link the song to recent crimes.

Don Lee, who grew up in Manhattan's Chinatown and once ran for New York's state assembly, disagreed. At a protest in New York outside a YG concert, he said in an interview with the World Journal that the song's lyrics go beyond what is guaranteed in the First Amendment and put Chinese Americans in danger by promoting crime.

Community organizer Jia-Ling Chen took it further, saying YG's lyrics are a hate crime and cannot be tolerated.

David Lee is vice president of the Chinese American Citizens Alliance of Greater New York. "YG must acknowledge the impact his words have had," said Lee. "We want him to apologize and engage with the Chinese community to understand why we are so hurt."

Some Chinese breathed a sigh of relief once YouTube removed YG's video, but continue to worry about other re-uploads of the song.

Hai-qing Xu lives in Dallas and suggested that Google remove all versions of "Meet the Flockers" from YouTube, remove the song from all its online music sources, and block searches of the song as well. She also wants to write to Amazon and iTunes to attempt to get them to remove the song from their catalogues.

Others are calling for legal measures in addition to the protests. Cliff Li, who helped organize the protests in Maryland, responded to those voices by saying that the Chinese community should join with mainstream society to take the legal route.

De-liang Tsai, president of the Greater Washington D.C. branch of the Asian Pacific Islander American Public Affairs Association, said that Chinese Americans have to speak up to safeguard their rights.