Donald Trump is living up to his reputation as thin-skinned bully.
At a rally in Davenport, Iowa on Thursday, Trump threatened to attack several of the Democratic National Convention's speakers for their remarks against him.
"I was gonna hit one guy in particular, a very little guy," Trump said at his rally. "I was gonna hit this guy so hard, his head would spin, he wouldn't know what the hell happened."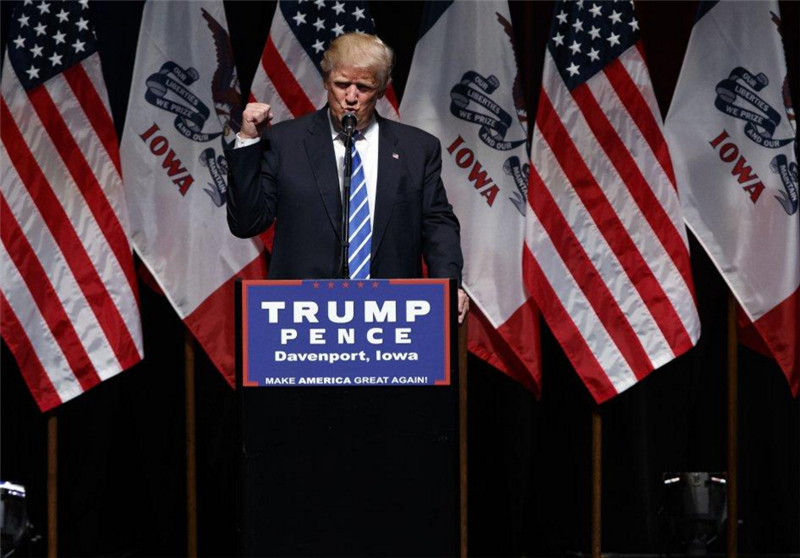 Some speculated that Trump had been referencing former New York mayor Michael Bloomberg as the "little guy," who blasted the billionaire as a failed businessman on Wednesday.
Bloomberg is 5'8'', which Trump would likely consider small, considering his "little" nickname for Marco Rubio, who is 5'10".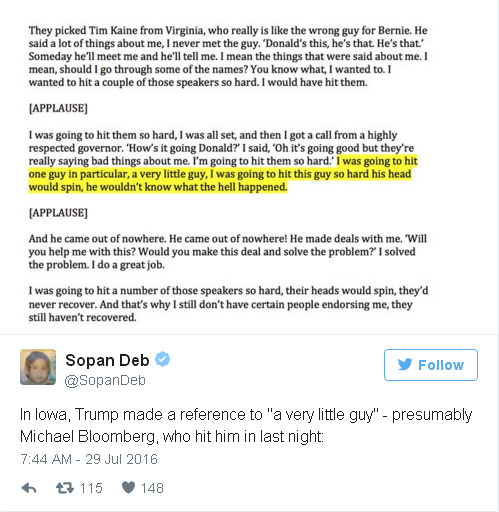 During the last three days, almost every speaker at the convention has denounced Trump, from New York mayor Bill de Blasio calling him a rip-off artist to actress Elizabeth Banks parodying the billionaire's bombastic entrance.
Other speakers, including President Obama, Vice President Joe Biden, andHillary Clinton's running mate Tim Kaine ran the gamut pointing out Trump's flaws, from his inexperience, to his divisive rhetoric, to his unofficial catchphrase, "Believe me."
It seems that Trump has been stewing in the insults over the last few days — as a candidate who has no problem dishing out attacks but has a hard time taking it.
"I was gonna hit a number of those speakers so hard, their heads would spin, they'd never recover," Trump said.
There's still one more night left of speakers voicing out against Trump, as the DNC wraps up on Thursday night, with Clinton accepting the Democratic nomination.