President Donald Trump used an interview with a conservative news outlet friendly to his administration to push back against U.S. intelligence officials' conclusion that Russia interfered in last year's election to help him win, claiming that Russian President Vladimir Putin actually favored his opponent Hillary Clinton.
"We are the most powerful country in the world and we are getting more and more powerful because I'm a big military person. As an example, if Hillary had won, our military would be decimated. Our energy would be much more expensive," he said in an excerpt of the interview with evangelical leader Pat Robertson, which is set to air Thursday. "That's what Putin doesn't like about me. And that's why I say, 'Why would he want me?' Because from day one I wanted a strong military; he doesn't want to see that."
The interview, the president's first in several weeks, comes amid mounting scandals in his administration. Trump's eldest son this week admitted he met with a Kremlin-linked lawyer promising damaging information on Clinton in June of 2016, the most significant indication that his campaign may have colluded with Russia leading up to the election.
Trump was not asked about the meeting in the excerpts of the interview released Wednesday, but in a statement Tuesday he defended his son as "a high-quality person" and, in a tweet, called the news part of "a witch hunt."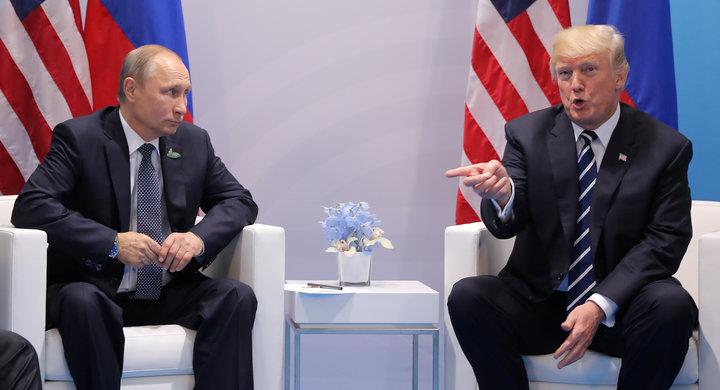 Carlos Barria/Reuters
U.S. President Donald Trump, right, said in an interview Wednesday that Russian President Vladimir Putin, left, favored Hillary Clinton in the 2016 U.S. presidential election.
In claiming that Putin would not have intervened to help Trump, the president told Robertson that Clinton "wants to have windmills," seemingly referring to the use of wind energy, which he frequently criticized during the campaign.
"From day one, I want fracking and everything else to get energy prices low and to create tremendous energy. We're going to be self-supporting, we just about are now. We're going to be exporting energy ― he doesn't want that," Trump said of Putin.
"He would like Hillary where she wants to have windmills. He would much rather have that because energy prices would go up and Russia as you know relies very much on energy. So there are many things that I do that are the exact opposite of what he would want," he continued. "So what I keep hearing about, that he would have rather had Trump, I think 'probably not,' because I want a strong military. You know she wouldn't have spent the money on military. When I want tremendous energy, we're opening up coal, we're opening up natural gas, we're opening up fracking, all the things that he would hate, but nobody ever mentions that."
As president, Trump has given relatively few interviews and press conferences, and most have been to favorable outlets like Fox News. The interview with Robertson, on his Christian Broadcasting Network show "The 700 Club," was likely a way to speak candidly in friendly territory, amid the mounting scandals facing his administration, and to reach evangelicals, a group whose support Trump frequently touts.
A former "700 Club" producer wrote last month that Robertson's show pre-dated Fox News in creating a right-wing media outlet that "exploited attacking the press in order to insert ourselves to the right of everybody else in presenting a Biblical, a.k.a. Republican perspective on current events."
"We offered a daily news program that expressed Republican party talking points that we marketed as a Christian worldview," Terry Heaton wrote.
In the interview taped Wednesday, Robertson asked Trump about the Senate Republican health care bill, telling Trump "the iniquitous Obamacare has got to go and be replaced."
When asked what would happen if the bill failed, given that its passage is in doubt, Trump said: "I don't even want to talk about it."
"I will be very angry about it and a lot of people will be very upset. But I'm sitting waiting for that bill to come to my desk," he said. "I hope that they do it."
Trump also boasted about his meeting last week with Putin at the G-20 summit.
"Everyone was surprised by the amount of time, but that was a good thing and not a bad thing. Yeah, I think we get along very well and I think that's a good thing, that's not a bad thing," Trump said. "People said, 'Oh they shouldn't get along.' Well, who are the people that are saying that? I think we get along very, very well. We are a tremendously powerful nuclear power, and so are they. It doesn't make sense not to have some kind of a relationship."
(By Marina Fang | Huffington Post)