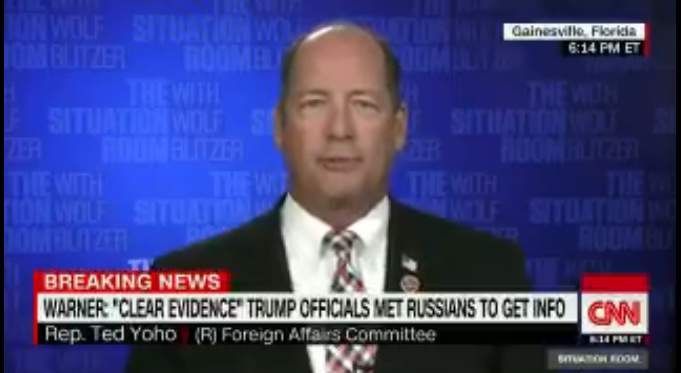 Rep. Ted Yoho (R-Fla.) on Monday said he would have met with a Russian national who claimed to have harmful information about a political opponent.
"Do I think it's appropriate? I think I probably would have done the same thing," Yoho told CNN's "The Situation Room" when asked about recent reports that Donald Trump Jr. met with a Russian lawyer during the presidential campaign who promised damaging information about Hillary Clinton.
"I mean, it's opposition research and you know, anybody that's been in an election, you're always looking to get the upper hand," Yoho added.
He also noted that the lawyer Trump Jr. met with was not a government official. 
"And if somebody comes to us and says, 'Hey we've got information on an opponent,' yeah, I think that's an appropriate thing to do," he said.
The congressman's comments come after two reports in The New York Times disclosed Trump Jr.'s contacts with a Russian lawyer with reported ties to the Kremlin.
While the first report said Trump Jr. arranged a meeting with Natalia Veselnitskaya, the second said Trump Jr. actually met with Veselnitskaya after being promised harmful information about Clinton.
Trump Jr. denied Sunday that he received any damaging information about Clinton.
While The Times described Veselnitskaya as a lawyer with ties to the Kremlin, a spokesperson for Russian President Vladimir Putin on Monday said the Kremlin does not know Veselnitskaya.
The contact comes amid multiple investigations into Russian election interference in 2016 and questions about possible ties between Trump campaign officials and Moscow.