All eyes are on fired FBI Director James Comey's highly anticipated Senate testimony on Thursday, his first public comments since President Donald Trump abruptly fired him in May amid the FBI investigation into his campaign's contacts with Russian officials.
Since then, there has been a series of bombshell reports — almost on a daily basis — suggesting a variety of things, including that Trump may have tried to obstruct justice, and highlighting more Russian involvement in the administration and 2016 election.
With Comey's permission, the Senate Intelligence Committee on Wednesday released his planned opening statement, which confirmed several of those reports, including that Trump asked him to end his investigation into former national security adviser Michael Flynn and to pledge his "honest loyalty." It also describes, in great detail, several meetings and phone calls with Trump that Comey said made him feel "uneasy." According to Comey, Trump demanded him multiple times to publicly say that he was not investigating Trump personally.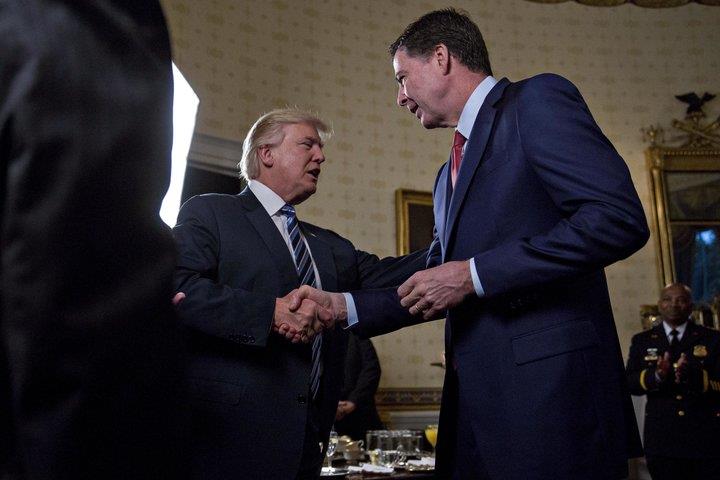 Pool via Getty Images
President Trump shakes hands with James Comey during an Inaugural Law Enforcement Officers and First Responders Reception at the White House in January.
Here is what to expect — or not to expect — from the senators questioning Comey.
Will Democrats demand more details on whether he felt Trump was obstructing his investigation?
Comey is not expected to conclude that Trump obstructed justice when he told Comey in February to lay off his probe into Flynn's contacts with Russia. It is also not necessarily within his purview to say so. He will likely stick to providing facts, which Senate Intelligence Committee Chairman Sen. Richard Burr (R-N.C.) and ranking member Sen. Mark Warner (D-Va.) have said that they also hope to do in their investigation.
"I went to law school but never practiced a day of law. I will leave that to legal minds," Warner said Wednesday on "CBS This Morning," when asked whether it would constitute obstruction of justice if Comey confirms on Thursday that Trump asked him to end the Flynn probe.
"I think we are going to follow the facts wherever they lead," Warner added.
But other Democrats may want to press the issue further.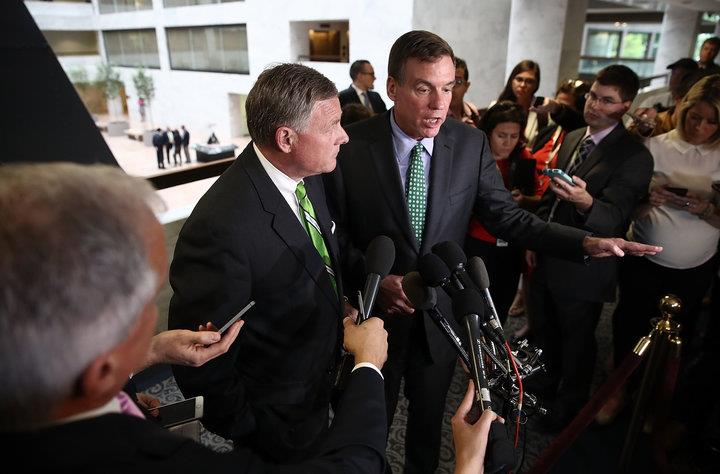 Win McNamee via Getty Images
Sen. Richard Burr (L) (R-N.C.), Chairman of the Senate Select Committee on Intelligence, and ranking member of the committee Sen. Mark Warner (R) (D-Va.) speaking to reporters last month.
Will senators accept his explanation of why he did not immediately report his concerns about Trump?
Comey's opening statement confirmed Tuesday's New York Times report that following the meeting with Trump in February, Comey told Attorney General Jeff Sessions that he felt uncomfortable meeting with the president alone but did not say why. This followed numerous reports that Comey felt something was suspect, raising questions as to why he did not immediately report his concerns.
"That's a good question, and a question that needs to be asked," Warner said Wednesday.
According to sources close to Comey who spoke to the Times, the then-FBI director was unsure whom he could trust at the Justice Department.
In his opening statement, Comey writes:
The FBI leadership team agreed with me that it was important not to infect the investigative team with the President's request, which we did not intend to abide. We also concluded that, given that it was a one-on-one conversation, there was nothing available to corroborate my account. We concluded it made little sense to report it to Attorney General Sessions, who we expected would likely recuse himself from involvement in Russia-related investigations. (He did so two weeks later.)
Will Comey discuss what he knew about Trump's aides and their alleged ties to Russia?
Sessions recused himself from matters involving the investigation after failing to disclose his own meetings with Russian ambassador Sergey Kislyak. Several other former Trump advisers are under investigation for their ties to the country's officials. The FBI investigation is reportedly circling in on current White House adviser and Trump's son-in-law Jared Kushner, who discussed creating a backchannel with Russian officials and met with Kislyak and the head of a Russian state-owned bank in December, during Trump's transition.
According to Comey's opening statement, during the February meeting in which Trump asked Comey to end the Flynn probe, Sessions and Kushner initially stuck around. But Trump asked them to leave so that he could speak to Comey alone.
Will Comey duck topics of legality and defer to Robert Mueller's independent investigation? 
Though he received an all-clear to testify from special counsel Robert Mueller, who is leading an independent investigation, Comey may defer to that investigation or to the FBI's probe, or simply say that he "cannot comment on an ongoing investigation."
Will GOP senators distract from the Russia probe and focus on intelligence leaks?
While Burr has said that he hopes to focus his attention on Russia's influence on the election, GOP lawmakers have often sidestepped the issue during prior Russia-related congressional hearings. While questioning Comey in March, House GOP lawmakers focused on leaks rather than the issue at hand, even threatening to punish reporters who publish leaks. Similarly, GOP senators veered off-topic when questioning former Acting Attorney General Sally Yates and former Director of National Intelligence James Clapper.
Trump and his aides have used the same tactic in trying to divert attention from the geyser of stories about contacts with Russia, insisting that leaks are the real story.
Will senators ask whether Trump is under investigation?
In his opening statement, Comey affirms that the FBI was not conducting "a counter-intelligence investigation" of Trump's "personal conduct." In response, Republicans claimed vindication.
"President Trump was right. Director Comey's statement reconfirmed what the president has been saying all along — he was never under investigation," Republican National Committee chair Ronna McDaniel said in a statement on Wednesday.
But Comey says there were several instances in which Trump demanded that he publicly declare the president was not under investigation, and that raises questions as to whether Trump was being investigated in other ways that could be connected to the probe into his campaign's ties to Russia.
"It is important to understand that FBI counter-intelligence investigations are different than the more-commonly known criminal investigative work," Comey notes in his opening statement. 
Will the media spectacle be a letdown?
Media networks are giving Comey's testimony wall-to-wall coverage. All three major TV networks, CBS, NBC and ABC, are preempting their regular Thursday morning programming to carry the Senate Intelligence Committee hearing live. Several bars in D.C. and elsewhere are opening early, serving "covfefe cocktails," and some have dubbed the hearing "the Super Bowl of Washington."
But it is likely that Comey's testimony will come up short of the sky-high expectations and not create any media fireworks.
Associates of Comey have said that he is a methodical person, not a "grandstander" and "showboat," as Trump claimed in an interview a few days after firing him. And Comey took the unusual step of releasing his written opening statement on Wednesday, a day before the hearing.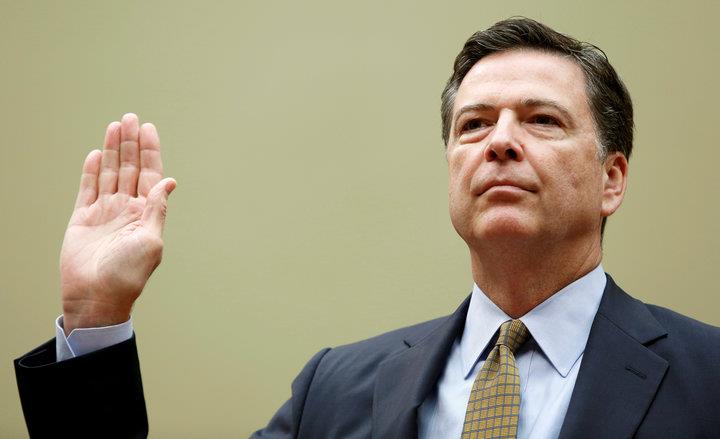 Gary Cameron / Reuters
Comey testifying last July.
Will Trump tweet?
White House aides, already unnerved by Trump's series of inflammatory tweets this week, hope not. But Trump reportedly wants to respond in real time to Comey's testimony and has set aside time to watch the hearing, even as aides try to keep him busy and focused on the White House's "Infrastructure Week." But given his penchant for unhinged tweets and the alarming details Comey reveals about Trump in his opening statement, it would be unsurprising for Trump to provide unfiltered commentary and potentially make explosive claims. In a tweet a few days after firing him, Trump threatened Comey and alleged that he had "tapes" of their conversations.
When asked by reporters Tuesday about Comey's testimony, Trump said: "I wish him luck."