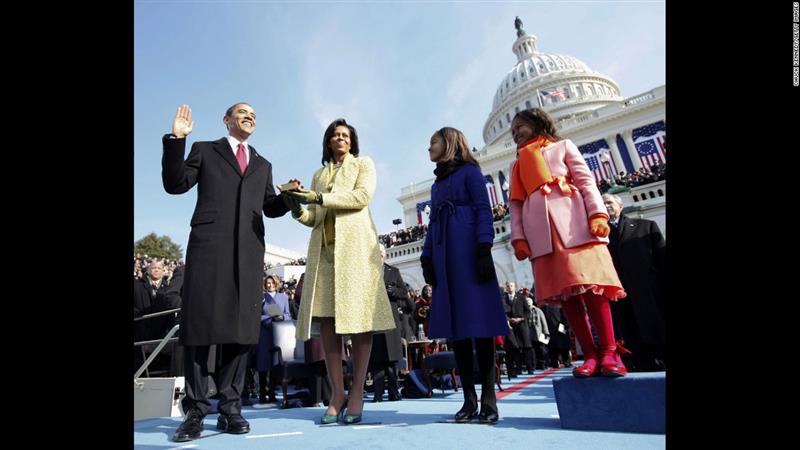 Barack Obama is sworn in as the 44th President of the United States on January 20, 2009. His wife, Michelle, is holding the Bible as he takes the oath of office, and they are joined by their daughters, Malia and Sasha. An estimated 1.5 million people attended the inauguration as Obama became the nation's first African-American President.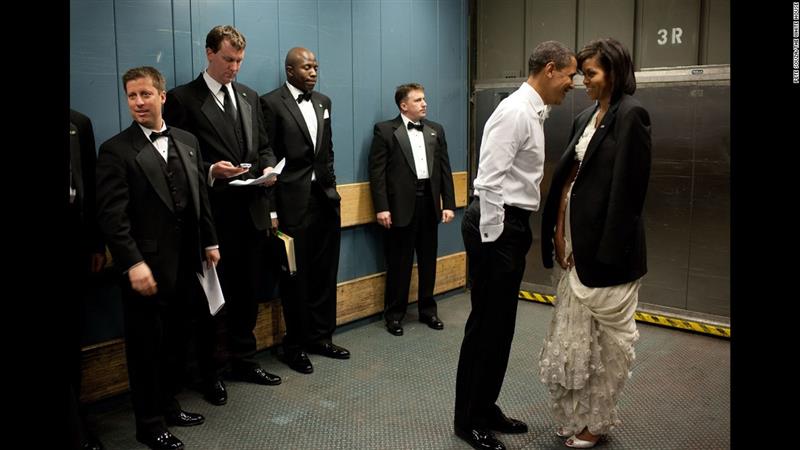 The Obamas share a moment on a freight elevator as they head to one of the inaugural balls on January 20, 2009. It was quite chilly, so the President removed his tuxedo jacket and put it over the shoulders of his wife,White House photographer Pete Souza said. Then they had a semi-private moment as staff members and Secret Service agents tried not to look.
Obama wears 3-D glasses during a Super Bowl viewing at the White House on February 1, 2009.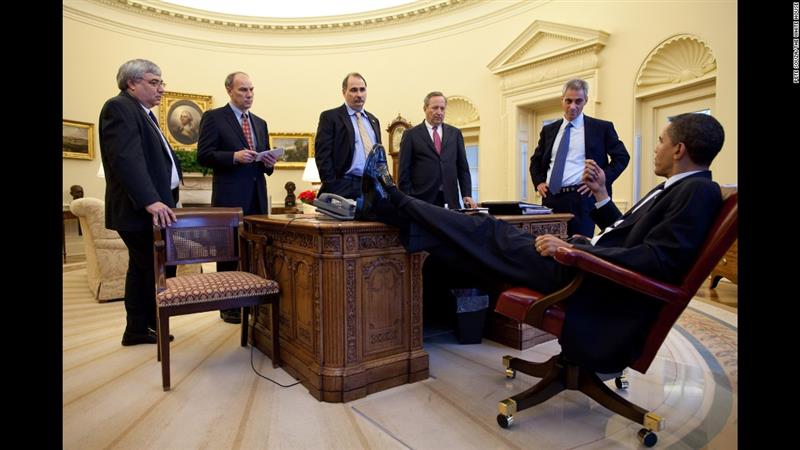 Obama speaks with aides in the White House Oval Office on February 4, 2009. From left are Senior Advisor Pete Rouse, White House Director of Legislative Affairs Phil Schiliro, Senior Advisor David Axelrod, National Economic Council Director Lawrence Summers and White House Chief of Staff Rahm Emanuel.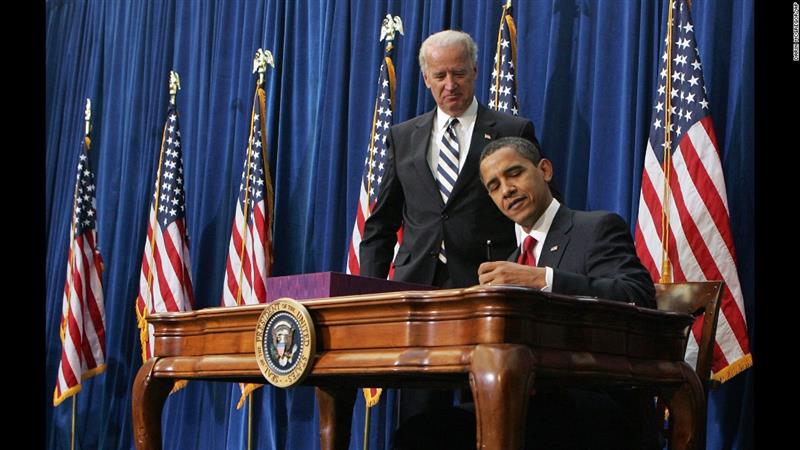 Vice President Joe Biden watches Obama sign on February 17, 2009. The goal was to stimulate the country's staggering economy by increasing federal spending and cutting taxes.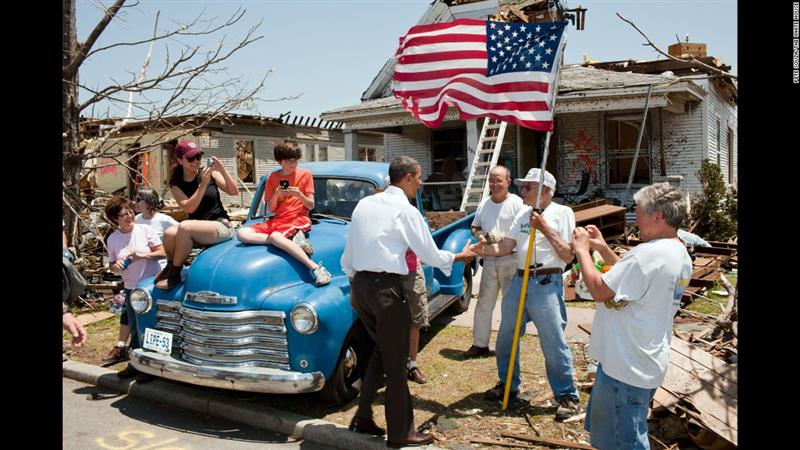 Obama greets Hugh Hills, 85, in front of Hills; tornado-damaged home in Joplin, Missouri, on May 29, 2011. It was the deadliest tornado to hit American soil</a> since the National Weather Service began keeping records in 1950. Nearly 160 people were killed.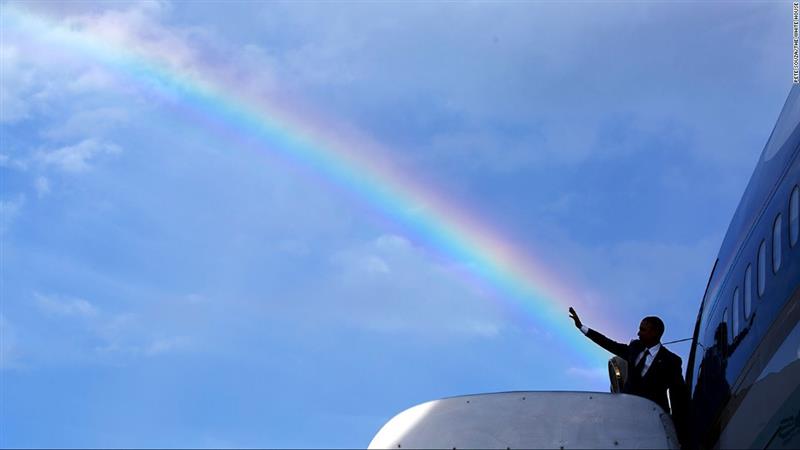 Obama's wave aligns with a rainbow as he boards Air Force One in Kingston, Jamaica, on April 9, 2015.
Obama holds Ella Rhodes, daughter of Deputy National Security Advisor Ben Rhodes, in the Oval Office on October 30, 2015. She was wearing an elephant costume for a Halloween event at the White House.
Obama and his daughter Malia walk down the steps of Air Force One after arriving in Chicago on April 7, 2016. She will be attending Harvard University after taking a gap year, the White House announced in May.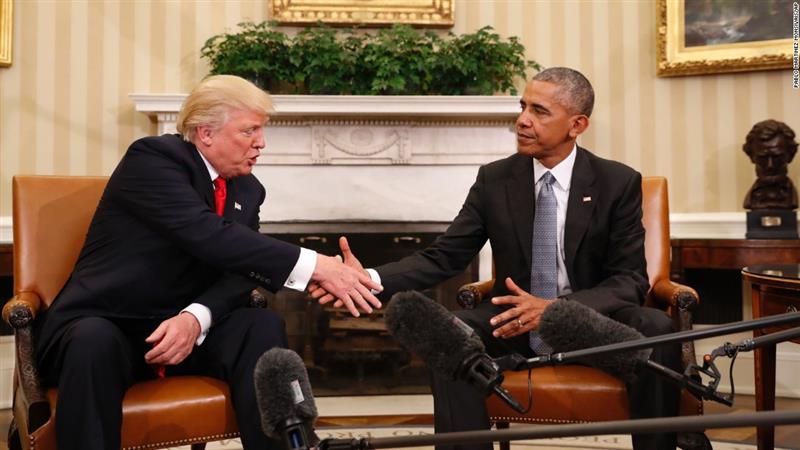 Obama shakes hands with President-elect Donald Trump in the Oval Office</a> on November 10, 2016. "My No. 1 priority in the next two months is to try to facilitate a transition that ensures our President-elect is successful," Obama said after meeting with Trump for about 90 minutes.