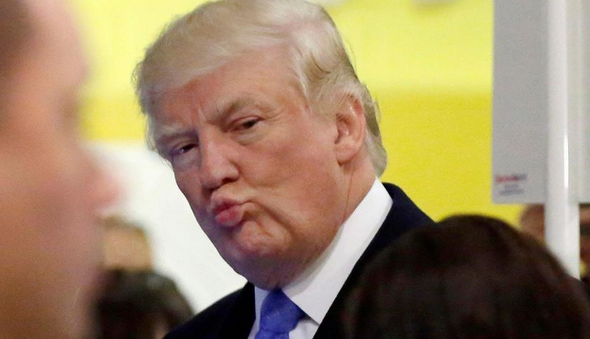 President-elect Donald Trump is facing more potential conflicts of interest than any other Oval Office occupant in U.S. history. And the billionaire businessman's response is: So what?
Trump shrugged off any hypothetical entanglements that could occur due to his worldwide real estate enterprise and asserted the law stood with him during a meeting with The New York Times on Tuesday.
"I mean, I know that from the standpoint, the law is totally on my side, meaning, the president can't have a conflict of interest," Trump said. "…And I understand why the president can't have a conflict of interest now, because everything a president does in some ways is like a conflict of interest."
TRUMP REVERSES COURSE ON CLINTON, DEFENDS BANNON
According to a Congressional Research Service report issued in October, Trump is right.
"Because of concerns regarding interference with the exercise of constitutional duties, Congress had not applied [criminal penalties for conflicts of interest] to the President," the report stated. "Consequently, there is no current legal requirement that would compel the President to relinquish financial interests because of a conflict of interest."
The present model assumes the president will be tried in the court of public opinion before he takes office.
"In other words, the current regulatory scheme suggests that any potential conflicts will be addressed by the electorate at the ballot box," the report stated.
The majority of previous presidents – Lyndon Johnson, Jimmy Carter, Ronald Reagan, George H.W. Bush, Bill Clinton and George W. Bush – have voluntarily "divested" any financial assets. President Obama did not, however, because his assets were tied up in Treasury notes and mutual funds he did not control, according to the report.
Trump told The Times he is beginning to take steps to separate a President Trump from the Trump organization. He noted that he's "greatly reduced" signing checks and meetings with contractors and other interested parties. But Trump is acutely aware that he has no legal obligation to build a metaphorical wall between himself and his business.
"In theory, I could run my business perfectly, and then run the country perfectly," he said. "…But I would like to do something. I would like to try and formalize something, because I don't care about my business."
Though he's been president-elect for fewer than three weeks, already several controversies involving potential conflicts have bubbled up – and mostly petered out.
Trump met last week with three Indian real-estate executives who are involved in building a Trump apartment complex in Mumbai. Trump said it was merely a congratulatory meeting and the men simply took a photo.
During a Nov. 12 conversation with UKIP leader Nigel Farage, Trump allegedly brought up the topic of wind farms, the building of which Trump had previously tried to stop because the
structures obstructed the view at one of his Scottish golf courses.
"I might have brought it up," said Trump, who then detailed his long-time opposition to windfarms due to their effect on the bird population and because he said most are manufactured in Germany or Japan.
After Trump spoke with the President of Argentina by phone after the Nov. 8 election, a report emerged from the country saying Trump brought up the topic of obtaining permits for an Argentinian office complex he's been trying to build. Both Trump and President Mauricio Macri denied the report and the source of the rumor later said he was joking.
The Trump International Hotel which opened in October in Washington, D.C. is, Trump admits, "a hotter brand than it was before."
"I can't help that, but I don't care," he told The Times
What will truly serve as a check on any potential conflicts, Trump said, is the chance he has to serve the nation and govern effectively.
"I don't care about my company. It doesn't matter. My kids run it…" Trump said. "The only thing that matters to me is running our country."